Hi everyone!  This week we will have stories that are sweet.
Welcome song – So Happy You're Here! – Hap Palmer
Book – Bunny Cakes– by Rosemary Wells- Max makes an earthworm cake for Grandma's birthday and helps Ruby with her angel surprise cake.  At the store, the grocer can't read all of the shopping list, until Max solves the problem by drawing pictures.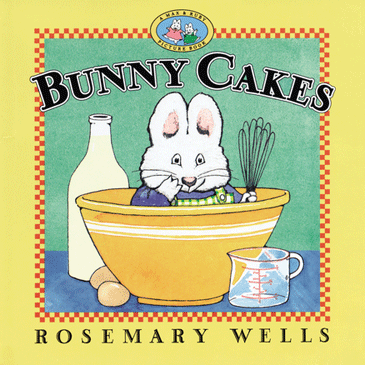 Flannelboard- Ice Cream Colors
Book – If You Give a Dog a Donut– by Laura Numeroff – If you give a dog a donut, he'll ask for some apple juice to go with it.  When you give him the juice, he'll drink it all up.  Then, before you can say "Woof"…Dog is off on a backyard adventure!
Rhyme- "Five Little Candies"
Five little candies on the shelf at the store.
CRUNCH [I act like I'm eating one and then put it behind the felt board]… and then there were four. 

Four little candies, sweet as could be.
CRUNCH… and then there were three. 

Three little candies, red, pink, and blue.
CRUNCH… and then there were two. 

Two little candies, melting in the sun.
CRUNCH… and then there was one. 

One little candy, looking so yummy. 
CRUNCH… they're all in my tummy!
Credit- http://www.abbythelibrarian.com/2011/02/sweet-storytime.html
Book – Sweet Dream Pie– by Audrey Wood – Imagine a pie made of chocolate, jelly beans, licorice sticks, cookies, gumdrops, butterscotch, and every confection you love.  It's Ma Brindle's incredibly delicious dessert adventure.
\
Song- "If All the Raindrops"
Book – A Birthday for Cow! – By Jan Thomas- Despite the objections of Pig and Mouse, Duck insists on adding a special ingredient to the cake they are making to celebrate Cow's birthday.
Closing song – Shout and Whisper- by Hap Palmer
-Miss Ellen